Tag: service
Added on May 30, 2022 by Jay
Finding volunteering opportunities was tough going during the early COVID-19 waves but as cases have subsided, along with increased vaccinations rates in Florida, those elusive opportunities to give back to our community have emerged once again.
Full IB Diploma students are required to earn 150 hours of service and most WPS IB students accumulate that in a single year - at least the ones I have spoken to. But the real benefit of service goes far beyond scholarships and IB requirements.
The benefits of volunteering and giving back include:
Social: You can use service to meet new friends and build relationships within your community - beyond your school and extracurricular activities/sport
Physical: Most service requires a degree of physical movement and that's a good thing - especially if the pandemic has reduced a lot of your typical activity
Mental State: Meeting new people will almost always boost your own self-esteem and confidence
If you are looking for volunteering opportunities this summer, I have a network of people around Windermere/Winter Garden that are looking for teens like us to give back. Contact me for more information!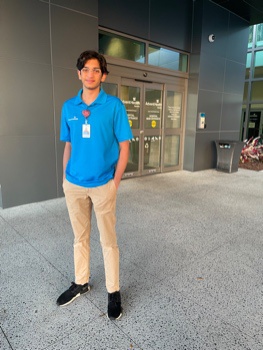 Added on August 19, 2021 by Jay
You know that feeling you get when you take a shower after a long, hot, Florida day? Maybe you've just finished a work out at the school gym or just ran track and all you want is to wash away the sweat. Now imagine you are homeless with no access to running water, let alone a shower. Unfortunately, that is what a lot of homeless Central Floridians face every single day.
Recently, I went to explore ways we, as Windermere Prep students, can do to make life for so many in our community a little bit more comfortable and volunteering at the Christian Center on Central Blvd showed me a side of Orlando I didn't know existed. At the Christian Campus - a faith based community organization - volunteers help sort clothes and wash clothes of the homeless. Showers are provided and hearing the last call of the day, meant many citizens wouldn't get their chance to wash the day away in one of just a few mobile shower stalls. It hits hard.
Over the coming weeks, I hope I can count on a lot of my friends and peers to support this great cause. More details to follow.....