Tag: be nice
Added on May 30, 2022 by Jay
Finding volunteering opportunities was tough going during the early COVID-19 waves but as cases have subsided, along with increased vaccinations rates in Florida, those elusive opportunities to give back to our community have emerged once again.
Full IB Diploma students are required to earn 150 hours of service and most WPS IB students accumulate that in a single year - at least the ones I have spoken to. But the real benefit of service goes far beyond scholarships and IB requirements.
The benefits of volunteering and giving back include:
Social: You can use service to meet new friends and build relationships within your community - beyond your school and extracurricular activities/sport
Physical: Most service requires a degree of physical movement and that's a good thing - especially if the pandemic has reduced a lot of your typical activity
Mental State: Meeting new people will almost always boost your own self-esteem and confidence
If you are looking for volunteering opportunities this summer, I have a network of people around Windermere/Winter Garden that are looking for teens like us to give back. Contact me for more information!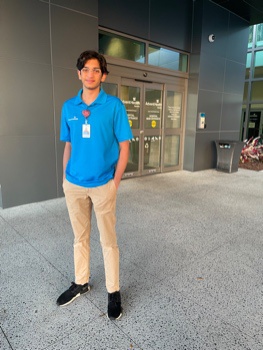 Added on February 1, 2022 by Jay
The title of this blog post 'sometimes you just need a friend' is the slogan for my Connect A Kid nonprofit. My goal is to bring neurotypical friendships to neurodiverse teens in Central Florida. If you would like to volunteer, please sign up for the Connect A Kid club at WPS or email me for more information.
Added on May 13, 2020 by Shailee.S
Recently after traveling to downtown Orlando, I noticed there were more homeless people than usual. My mom told me a lot of shelters were at capacity and many homeless were forced to live on the streets. Things got worse over the next few weeks and I realized that while I could not change the situation many of the homeless people were in, I could give them food to help them during these hard times.
With COVID I could not distribute food directly to the homeless, but I discovered a program called Service and Love Together, SALT who I could volunteer with. SALT not only provides food, but also mobile showers! The volunteers went above and beyond and also gave the homeless an opportunity to wash their clothes. I saw this as an opportunity to combine two things I am passionate about: cooking and service.
I contacted SALT and they granted me the opportunity to create snack bags. My 100 snack bags were filled with oranges, granola bars, and waters. I handed these bags out while people were waiting for the main meals. I watched as different people came up and received a bag. They were so thankful for such a small item. The compassion they showed to each other and to the volunteers was moving. To them, it didn't matter where you were from; they just wanted to take care of each other.
I continued making snacks and meals for SALT on a weekly basis. One of the most touching moments that left me with an indelible impression was a cute woman with a red flowered fishing hat. She approached us as we were walking back to the car and complemented how much she loved my mom's shoes. I smiled at her and told her how these were my mom's 20-year-old shoes that had lasted her through everything. I watched as the woman listened intently and told me about her shoes which were torn and ripped in all different places and how they had lasted her only 7 years.
When I got home, I got to work scourging all the closets in the house looking for old shoes. I ended up compiling 18 pairs of shoes amongst everyone in the house! The following week when I went back to SALT to hand out food and shoes. I gave the woman with the red hat the shoes she loved so much, hoping that my mom's shoes would last her another 20 years. :)
SALT is an amazing place to volunteer and they have a variety of duties to be involved with! If you enjoy cooking, they love to have people make meals and donate them. However, there are other ways to help like donating clothes, snack bags, and shoes! Don't hesitate to reach out and see ways you can help.
Added on April 22, 2020 by Shailee.S
Our lives during the COVID-19 pandemic have changed drastically. Everyday new information is released about prevention and what can lead you to have a higher infection rate. Consistently, throughout all the information, seniors (people over the age of 60) have a greater chance of contracting the virus and becoming seriously ill when exposed to COVID-19. After learning this, I thought about my grandparents and how they could potentially be affected. In order to keep my grandparents safe, my parents and I brought them all the supplies they needed including masks, sanitizing wipes, hand sanitizer and groceries. I continuously saw why nursing homes and assisted living facilities were the highest risk for a dramatic spread of the virus: I felt compelled to help them in some way. I learned the best method to prevent the spread of disease was the use of PPE (Personal Protection Equipment), especially N-95 masks. As I called a few local senior assisted living facilities, I realized they did not have the proper supplies for their staff or residents. After researching manufacturers, I was able to find a local company selling N-95 masks. I organized a fundraiser and was able to raise enough funds to purchase 100 masks.
Donating PPE to The Commons Senior Care Facility was similar to a child in a candy store. Nurses and residents were ecstatic to be able to protect themselves and residents. They came running up to me and I was instantly surrounded by eager faces wanting PPE. They were so thankful for the small amount I could provide, just so they could do their jobs. Additionally, to help keep the residents safe, I invited a local doctor to speak about the proper ways to reuse masks and prevention of COVID. I hope my minor efforts to help prevent the spread of COVID-19 helped keep someone's grandparents safe.
Even if you are not a healthcare provider, there are many different ways to get involved including sewing masks, donating masks, and even just showing your appreciation for healthcare workers.
Added on January 22, 2020 by Shailee.S
At a young age, I was fortunate to be able to attend a STEM after school program with one of my teacher's Mr. Falcionie. In school, Mr. Falcionie's science class was always my favorite because the class allowed me to work with my hands, critically think, and stimulate my deepest creativity. I was blessed to have access to this after school program, which allowed me to further my interest in the STEM field. I realized at a young age, this was something I wanted to work in for the rest of my life. This year, I had the opportunity to volunteer at Riverside Elementary, a Title 1 elementary school. I helped mentor 4th and 5th grade students, predominantly younger girls, on their LEGO robotics team afterschool. This opportunity allowed me to impact the next generation of learners and spark their interest in STEM - just like Mr. Falcionie did with me. I built a team of female STEM students to aid in providing individual mentoring.
As a group, we got to mentor and work with individual students. We taught them the benefits of trial and error and the concept of analysis. As mentors, our job was to foster independence while supporting them in learning STEM skills. Furthermore, we taught the students valuable skills such as communication, teamwork, and responsibility, which are all vital to success in STEM.
The most powerful moment for me was not seeing the complete robot, but seeing the robot take its first steps and fall. The kid's faces did not waver through this mishap, showing me their determination and their ability to problem solve. Leading up to that day when parts would break and mechanisms failed, the students would get frustrated. We took these opportunities to show them how to work with a failed result. Instead of letting their emotions get the best of them, they learned to ponder why the robot failed at its mobility and how to come up with a solution. The moment when the robot fell is one that I will always cherish because I could see the students actively applying our teaching.
Furthermore, the experience of mentoring was truly rewarding to me and it can be for you too. It is a great way to make an impact and help others. In order to gain experience in mentoring, tutoring can teach you how to work with all different types of people and also valuable skills you can utilize as a mentor.
Added on January 3, 2019 by Shailee.S
I am very lucky to have known my maternal Great Grandmother, Moti Dadi. Her selflessness allowed my family to come to America. She followed her four children to the United States, and practiced customary Indian tradition by living with her eldest son. Unfortunately as she got older, they were unable to provide her the standard of care she needed. So at the age of 89, Moti Dadi, was moved to an assisted living care facility.
My family and I went to visit her as often as we could. I looked forward to our chats, which while she was in pain always started with her asking me, " How are you?" with a beaming smile. One of the last times I was able to sit with her - instead of her asking how I was, I got the chance to ask her. She told me about the hardships she faced: from large issues such as not being able to communicate with the staff to small issues such as her socks never making it back to her room. I wanted to reciprocate the care she had always shown me and asked my parents to write words in both Gujrati, our native language, and in English so whenever she needed help she could point at the English word and get the assistance she needed.
She mentioned how her socks always seemed to get lost in the dryer and she struggled to stay warm. I wrote her name on them with a Sharpie but this didn't solve the problem, after a couple of washes the letters began to fade. So then I embroidered her initials on the sock! After I left her with several pairs of embroidered socks, she called me to tell me that she was receiving all of her socks. I was so happy to provide her a little more comfort.
While talking to other residents at The Commons, I told them about my great grandmother and her story. Many of the residents had similar stories where they left their home countries to come to America in search of a better life or just to be closer to their families. I noticed while they were speaking many of their socks were miss matched and they also expressed a similar situation to my great grandmother's. So I began to make embroidered socks for each of the residents.
This experience has been a reminder of how small gestures can also be impactful. If you are interested in helping the local community, the assisted living care facility is a great place to start! The community is welcoming and always open to talking.
Added on January 27, 2018 by Shailee.S
After my first event, the Special Olympics Basketball Clinic with Windermere Prep, I decided to host another Special Olympics Clinic with the track team. I hoped to have an equally successful camp but there were fewer WPS Athletes than at the Basketball clinic. The disproportionate ratio of WPS Athletes to Special Olympics athletes made me nervous and I wasn't sure how this camp would turn out in comparison to the basketball camp. After starting the camp, I realized this could be one of the most successful camps because the coaches got the chance to work directly with the athletes, which changed the environment of the camp. Instead of the WPS players doing a drill next to the players, they were leading a group of Special Olympic Athletes. The WPS track runners displayed patience when teaching and persistence in making sure Special Olympic athletes were learning new skills. The Special Olympics' athletes were eager to learn and when they struggled used the experienced players around them to gain help. Even though I felt unsettled by the fact there was an uneven proportion of athletes to mentors, all the participants were excited to be learning and playing a sport they loved!
In the WPS Community, there is very little awareness about special needs children. The goal of these camps is to increase awareness among our local community and allow both groups to bond in their commonalities. As my camps continue to grow, I hope they will provide a platform for an inclusive environment for Special Olympics.
Added on January 2, 2018 by Shanthi.R
I happened to be born a girl in the 21st century, and into a family that loves me unconditionally and provides me with anything I need and most any opportunity I want. From the beginning, I've truly lived a spoiled, blessed life. 17 years later, the only thing that's changed, somewhere in between then and now, is that I have 75 sisters from Sahasra Deepika (SD)-- a non-profit organization dedicated to providing a home and a quality education to impoverished and orphaned girls in Bangalore, India. These girls are no different than me in intellect, creativity, or capacity. The only thing separating us is a factor out of any of our controls: the socio-economic circumstance we were born into-- a factor which, unfortunately, limits opportunity.
Realizing all that I have in comparison to so many around me heightens my gratitude and appreciation for the life I live, and spurs me to take advantage of what I've been given and use it to enact change and lend a voice to what I am passionate about-- which happens to be women: women's empowerment, education, rights, and parity. I do confess, however, that at least to me, the pursuit of all these efforts sounds a little too idealistic to realistically tackle. But I have realized, largely because of what I've learned from spending time at SD, it's up to girls and boys alike to somehow, in their own way, turn these idyllic ambitions into tangible realities. This, I believe, should be, in some capacity and upon whatever issue they connect to, the goal of us millenials of the 21st century.
However, it's easy to go into any altruistic endeavor feeling some level of pity, or maybe even guilt because of what you have compared to those you want to help. I know this is oftentimes the mindset I hold. But it's equally important to realize what they do have, or even what they have that we don't. We cannot amplify humanitarian causes so much that they, as virtuous yet very broad forces, overpower the humanity within the individual you're connecting with: they are not just hopeless cases who know and have nothing but misfortune or darkness. Such a mindset causes a psychological disconnect, and can hinder you from connecting at a real, personal level. I have learned this from forming deep bonds with the girls at Sahasra Deepika, as friends and as sisters. True, we ask each other about where we come from, and exchange in what people might call more meaningful conversation, but we also talk about Taylor Swift. We sneak to the roof of the neighboring high school and see who can drink the water out of the coconut the fastest. We are real with each other. We are friends. And I think of them as no less, or no less capable than me. They are intelligent and they are talented: they're artists and they're athletes-- they've even beaten me, a varsity track runner, in running races, with me in my Nikes and them in their bare feet. And they have self-esteem and dignity, which I think is more resilient and stronger than mine, as it has been weathered and tested, broken down and built back up.
These traits of resilience and strength, nourished even more within the girls by the caring environment of Sahasra Deepika, should serve as paradigms for the rest of society. These are the qualities which transcend geography, religion, culture and sociology-economic class-- they are ones which should be universally adopted and developed within all of us, for they are the requisites of enacting lasting and effective change, and are vital in both kindling and sustaining the deepas— the lights— within us all to serve as lights of hope for all of us brothers and sisters.
You can learn more about Sahasra Deepika at http://sdie.org/
Added on December 15, 2017 by Shailee.S
Growing up with 2 brothers and no sisters made me an automatic sports lover. The one thing which brought us together was football. My desire to learn more about the medical field and love for football led to me to accept a position as an athletic trainer for Windermere Preparatory School Football. Even though I always watched football on Sunday nights, I never knew athletic trainers played such a vital support role in the game.
Every day after school, the student athletic training team would prepare for practice, which consisted of filling up water and Gatorade jugs, wrapping wrists and ankles, and tending to sore joints and other practice injuries. Contrary to the popular belief that the Student Athletic Trainers are "water girls", the truth is there is much more to the job. Being a member of the team means consistently being ready to help any player. The toughest job during games was blood and wound duty - in 30 seconds we had to change gloves, stop any bleeding, and wrap a player's arm!
Student Athletic trainers had to oversee the well being of all the players on the field on both sides of the ball. Being a member of this team has taught me how to be an effective communicator. Lack of communication, would oftentimes mean players were left with injuries needing attention or players not receiving any water. For different types of injuries, we would have hand signals to bring out certain equipment. Our ability to communicate effectively when a massive injury occurred was potentially life-saving for the players.
Being a Student Athletic Trainer requires selflessness, dedication, and persistence. The team performing at its best is dependent on having athletes in the best physical condition during, before and after the game. This is a cornerstone of the commitment of a Student Athletic Trainer. If you want to be a trainer, please don't hesitate to reach out and see if you have what it takes.
Added on November 19, 2017 by Shailee.S
Volunteering at the Special Olympics State Office was a very inspiring experience. While I only performed clerical work, I quickly learned how Special Olympics plays an integral role in the athletes' lives: inspiring confidence and teamwork.
When reading through feedback questionnaires from the athletes, one of the questions asked was: "What is your favorite part about playing sports with the Special Olympics?" The athletes' responses unanimously said they enjoyed playing and meeting other people. Many of them mentioned that they were alleviated of social anxiety when playing team sports.
Considering the benefits Special Olympics (SO) events had on the athletes, I was inspired to provide them more opportunities for memorable experiences. As a member of multiple WPS (Windermere Preparatory School) athletic teams, I knew about the extensive athletic resources and experienced coaches we have. I thought this would be an excellent way to use WPS resources. Furthermore, my peers would also get a chance to train and teach while playing a sport they loved. Thus, I conceived the idea to create clinics which integrated Special Olympics athletes with WPS athletes.
The first Special Olympics-WPS camp was with the WPS Basketball program. On the morning of November 18, 2017, WPS hosted its first Special Olympics-WPS athletics clinic, with 25 special olympic athletes and 44 WPS High School basketball players (3 teams of players). I did not expect such a large turnout. Each of the Special Olympic Athletes were paired off with 2 WPS Athletes. They worked together to complete drills and at the end participated in a scrimmage.
I witnessed not only the Special Olympics athletes laughing and having fun, but also my fellow WPS classmates. The WPS players were lifting kids up and teaching them how to slam dunk. They also took the opportunity to teach all the athletes the most important part of a game: the celebration dance. The coaches turned on music and the players formed a circle to watch. They took turns dancing and showed each other how to do different dance moves. As I watched this, I saw how the camps had the ability to create awareness and an inclusive environment.
As a school privileged with many skilled coaches, WPS was able to share its resources and help improve the skills of the SO players. While there were many differences between the Special Olympics players and the WPS players, their love for the same sport brought them together and created a lasting bond.
This camp created a welcoming atmosphere and allowed both groups to share a sport they love. After the camp, Coach Ben Wilson came up to me and said, "This was one of the coolest things I have been a part of and I want the Special Olympic athletes to be a part of our team at a game." Many athletes saw it takes one small connection to form a friendship. With more awareness and exposure to special needs athletes, I hope our WPS community will become more inclusive. I believe it starts with camps such as these.
If you would like to get more involved in the Special Olympics community, reach out to your county chapter and sign up as a coach or an assistant coach. In addition, the state office is always looking for volunteers. The Special Olympics are a great way to spread your passion for a sport while helping a good cause.
Added on November 6, 2017 by Alfred.Y
Life is a pathway of choices, and the one who makes those choices is you. Whether you make the choice, someone else influences your choice, something influences your choices, the final result will be produced from you. There are times where you can turn your choices back, but most of the time, you cannot turn your choices back. Your one choice could lead to profitable and good results, but that one choice could lead to a series of mistakes and even a disaster. According to research, decision making suddenly changes when you reach puberty, and change slowly when you enter the twenties. I believe that the most choices made during the high school life is whether you should drink and do drugs, and I believe that the choice you make in the situation stated before will affect your future. Do not look for a situation that is only a step ahead. LOOK at a few more steps and imagine what your future could look like due to your one choice! I really hope for you to not make the decisions that may affect your future in a bad way.
Added on September 23, 2017 by Shailee.S
I have always been an avid animal lover, but I have never had a pet. My passion for them led me to joining Seaworld camp all throughout elementary and middle school.

I always found animals' unique characteristics fascinating as well as how similar some of them can be to human characteristics

. Strange as it may seem, by spending time with animals I was able to learn more about human characteristics. For example, dolphins are naturally social animals and when they are left without a pod they become depressed. When humans are left with no friends or family they are left feeling a similar way. After I outgrew the camps, I realized I wanted to continue to spend time with animals.
I unfortunately was not old enough to work at our local shelter. So I decided instead to come up with a drive to support animals. I spoke to my local community, handed out flyers and people brought toys and sealed bags of food to donate to ASPCA. We gathered round 30 bags of food and a hundred different toys to donate! When I dropped off these items, the staff told me how the dogs love the toys and the food helps them keep every animal who comes in fed. Next year I hope to be a Bark Buddy and help take care of the pets at the shelter. If you enjoy being around animals come and join me in helping the ASPCA!
Added on March 23, 2017 by Alfred.Y
Whenever you are lonely, whenever you are bored, and whenever you are nervous, one of the best activities to do is volunteering. The fact that you are helping someone out for his or her benefit, not yours, gives you a thrill and happiness. When you are volunteering, you are also giving something back to the community, the community that gave you the environment to grow to what you are now.
Volunteering can also help you build new skills or even build on an existing skill that you are working on. For example, volunteering at a golf tournament may help you understand golf and volunteering at a hospital may help you understand how patients are treated and how the hospital runs during the day. Each time you volunteer, whether it is fun or not, you learn a valuable lesson, and the lesson you learn can be used for your future decisions and actions
For me, volunteering is quite fun, although I encounter new skills and activities that I might not even use in my life, just learning the new skills makes it fun for me. I volunteered at a golf tournament January 2016, and from there, I learned how the scoreboard runs during a golf tournament, and many other management skills that run a golf tournament. I even met many famous people there too! Furthermore, I am going to volunteer at the Orlando Regional Medical Center and I am looking forward to volunteer! I will be able to not only go around the hospital, but also have a chance to look into details where patient is being cared of, and other great opportunities!
All in all, one of the best ways to learn and go out into the world is by volunteering. The current world requires us to have as many skills and volunteering can cover most of the experience we need. Plus, just why not volunteer? Volunteering, in my opinion, is better than any phone or computer games and many other home activities. Most volunteering activities are held outside, which means that you can also get your daily walking done while outside. So to have fun and volunteer!
Added on January 22, 2015 by Anonymous
Sometimes as a child I would describe myself like an egg. On the outside a hard shell, smooth and flawless in appearance but on the inside a mushy soft, runny liquid.
I'll explain…
I was put ahead a grade in 1st grade basically because I knew my ABC's and could read while our Pre-K students now a days can recite their ABC's and read in usually more than one language:) With a late spring birthday this made me very young for the class which was like a neon sign saying come pick on me. I was lucky academically where I liked school and the subjects came easier than normal to me, again a flashing neon sign. I was painfully shy and didn't have a lot of friends, this time the flashing neon sign is playing a tune here, you follow me?:) Grades 1-5 were uneventful, no one noticed me so I went about business without any problems. By 6th grade though, that was another story. My middle school years were tough. I was picked on and ridiculed. I wasn't physically bullied, it was all verbal which to me is worse. I would've much rather been hit once and been able to walk away with an external bruise, instead I had to be the egg, hard on the outside but a pile of mushy liquid inside.
Unfortunately, I have no words of advice on how to deal with a similar situation at the time of occurrence I put my head down and prayed my way through but I can tell you now that those crucial years most definitely made me the person I am today. I have tolerance, I have compassion, and I have empathy. Strangely enough I'm an eternal optimist, I see the good in everyone and everything. I am a parent who will not tolerate my child treating their friends and peers with anything but respect and courtesy. I will not partake in gossip or hearsay and I only surround myself with positive people. Sounds like I got it all together right, not in the least! I don't talk about my middle school years often but I will divulge them to a crying student who thinks no one could possibly know what they are going through at the moment. I hope to give them some hope, some reassurance and some optimism. Because everything you do in life shapes what kind of person you can become.
Anonymous