community service
Added on February 1, 2022 by Jay
The title of this blog post 'sometimes you just need a friend' is the slogan for my Connect A Kid nonprofit. My goal is to bring neurotypical friendships to neurodiverse teens in Central Florida. If you would like to volunteer, please sign up for the Connect A Kid club at WPS or email me for more information.
Added on September 7, 2021 by Jay
Club Day was a huge success for Reach A Student and the other club I am President of, Connect A Kid. With the latter, the number of new team members has grown to over 25 and I couldn't be happier. We will be making a real and positive impact in both special needs schools locally and supporting the neurodiverse homeless that need our support - arguable more than any other group. Systemic issues with funding (more on that in another blog entry) and with the education system has left too many without the support they must have. After Club Day, a lot of questions I got involved getting precise details as to what 'volunteering' entailed at the homeless shelter and the answer really includes a diverse set of activities. Sometimes it's as easy as making coffee for people or moving inventory of supplies.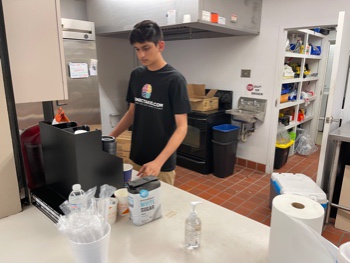 Added on August 19, 2021 by Jay
You know that feeling you get when you take a shower after a long, hot, Florida day? Maybe you've just finished a work out at the school gym or just ran track and all you want is to wash away the sweat. Now imagine you are homeless with no access to running water, let alone a shower. Unfortunately, that is what a lot of homeless Central Floridians face every single day.
Recently, I went to explore ways we, as Windermere Prep students, can do to make life for so many in our community a little bit more comfortable and volunteering at the Christian Center on Central Blvd showed me a side of Orlando I didn't know existed. At the Christian Campus - a faith based community organization - volunteers help sort clothes and wash clothes of the homeless. Showers are provided and hearing the last call of the day, meant many citizens wouldn't get their chance to wash the day away in one of just a few mobile shower stalls. It hits hard.
Over the coming weeks, I hope I can count on a lot of my friends and peers to support this great cause. More details to follow.....