Author: Jay
Added on May 30, 2022 by Jay
Finding volunteering opportunities was tough going during the early COVID-19 waves but as cases have subsided, along with increased vaccinations rates in Florida, those elusive opportunities to give back to our community have emerged once again.
Full IB Diploma students are required to earn 150 hours of service and most WPS IB students accumulate that in a single year - at least the ones I have spoken to. But the real benefit of service goes far beyond scholarships and IB requirements.
The benefits of volunteering and giving back include:
Social: You can use service to meet new friends and build relationships within your community - beyond your school and extracurricular activities/sport
Physical: Most service requires a degree of physical movement and that's a good thing - especially if the pandemic has reduced a lot of your typical activity
Mental State: Meeting new people will almost always boost your own self-esteem and confidence
If you are looking for volunteering opportunities this summer, I have a network of people around Windermere/Winter Garden that are looking for teens like us to give back. Contact me for more information!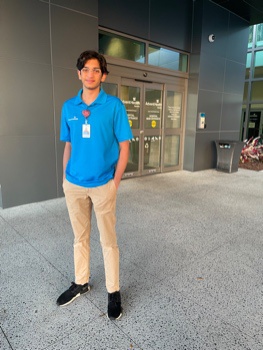 Added on February 1, 2022 by Jay
The title of this blog post 'sometimes you just need a friend' is the slogan for my Connect A Kid nonprofit. My goal is to bring neurotypical friendships to neurodiverse teens in Central Florida. If you would like to volunteer, please sign up for the Connect A Kid club at WPS or email me for more information.
Added on December 10, 2021 by Jay
It is no secret that the pandemic has made millions of workers rethink their employment and that has put enormous strain on countless businesses. Through the pandemic, I have found myself working at various positions at a breakfast cafe, as have countless other teens, to help their family businesses in these challenging times. The process has opened my eyes to the hardships faced by so many as a result of COVID-19.
One of the biggest things I learned working in the restaurant industry is how much of the work is team-based and when one member of team isn't there, it puts an exponential strain on others that remain. The staff shortages almost contribute to more staff shortages as a result of this work dynamic created by an external public health event.
I also learned how working in a close team needs effective communication to thrive and improve efficiency. When I first started as a bussing tables, I didn't understand the need to communicate with the servers but after a few days I observed that I was playing a vital role in clearing tables for the next guests to be seated. Effective communication with others helped me allocate my time more effectively.
Another thing, working at a busy cafe taught me, was the power of observation. As I worked every position at a restaurant, I quickly learned how observing my team and patrons could help me avert or resolve potential problems for the benefit of everyone.
But, most of all, I learned how to make a pretty phenomenal Eggs Benedict!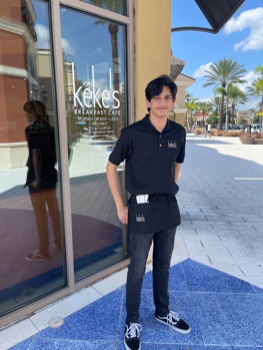 Added on September 7, 2021 by Jay
Club Day was a huge success for Reach A Student and the other club I am President of, Connect A Kid. With the latter, the number of new team members has grown to over 25 and I couldn't be happier. We will be making a real and positive impact in both special needs schools locally and supporting the neurodiverse homeless that need our support - arguable more than any other group. Systemic issues with funding (more on that in another blog entry) and with the education system has left too many without the support they must have. After Club Day, a lot of questions I got involved getting precise details as to what 'volunteering' entailed at the homeless shelter and the answer really includes a diverse set of activities. Sometimes it's as easy as making coffee for people or moving inventory of supplies.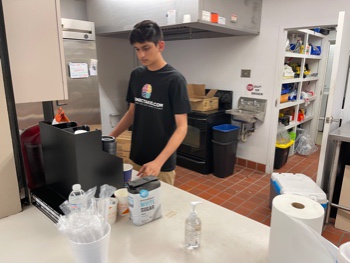 Added on August 19, 2021 by Jay
You know that feeling you get when you take a shower after a long, hot, Florida day? Maybe you've just finished a work out at the school gym or just ran track and all you want is to wash away the sweat. Now imagine you are homeless with no access to running water, let alone a shower. Unfortunately, that is what a lot of homeless Central Floridians face every single day.
Recently, I went to explore ways we, as Windermere Prep students, can do to make life for so many in our community a little bit more comfortable and volunteering at the Christian Center on Central Blvd showed me a side of Orlando I didn't know existed. At the Christian Campus - a faith based community organization - volunteers help sort clothes and wash clothes of the homeless. Showers are provided and hearing the last call of the day, meant many citizens wouldn't get their chance to wash the day away in one of just a few mobile shower stalls. It hits hard.
Over the coming weeks, I hope I can count on a lot of my friends and peers to support this great cause. More details to follow.....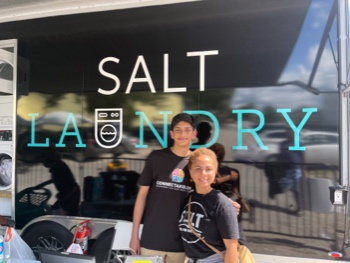 Added on February 20, 2021 by Jay
Even though we've lost a lot of great players and had many out for various reasons this week, the season opener against Foundation Academy couldn't have gone much better. Our varsity players really came together and played with a lot of heart. The many weeks of early morning conditioning sessions along with a rigorous 5 day a week practice schedule has brought out the best in this young Laker team.
Today's 18 to 3 win on our home field is the start I hope of a terrific season that I'm really looking forward to being a part of. I've played Lacrosse at Windermere Prep since 6th grade and as a starting sophomore, I could not be more excited and optimistic for where we are at as a team.
Jay Khemchandani
Added on February 19, 2019 by Jay
Latin competitions are some of my most favorite events to compete and participate in. Dr Fields is such an incredible teacher and has been teaching Latin at WPS for so many years and encourages anyone who takes the class to participate in these events. What is really nice is that you instantly become part of a larger community of students that enjoy the treasured aspects of this ancient language and culture. I hope to be a part of Latin events for many years to come.