Author: Jay
Added on August 3, 2022 by Jay
Having recently come back from the Summer Science Program, which I detailed in my last blog, I have begun to deeply miss the late nights working in the lab conducting research - singing along to music with my peers while still working diligently on assignments sometimes through the entire night. The countless lectures on Natural Transformation, ribosomal pathways to antibiotic resistance, and bioinformatics will be missed - but I know I will keep in mind what I have learned and apply it in both current and future research.
Furthermore, though we experienced setbacks in the form of brand new morbidostats - the cutting edge devices we used to culture bacteria - needing software fixes, as well as getting contaminated, the data we collected will still contribute to understanding and solving the world-wide problem of antibiotic resistance. Furthermore, as the first SSP Genomics group, I hope that there will be fewer obstacles for future years' groups to overcome - and future young scientists will uncover more and more about the genomic origins of antibiotic resistance.
Some more pics of my time at Purdue University: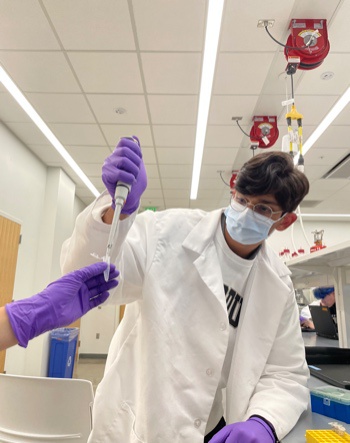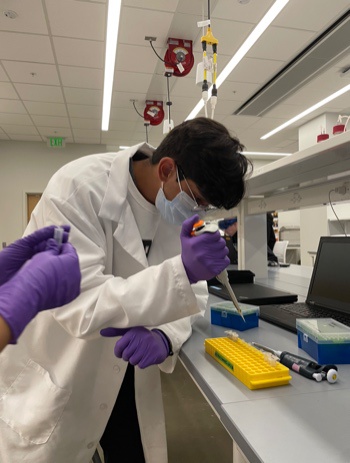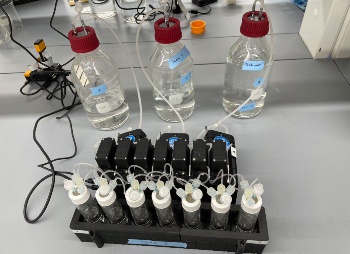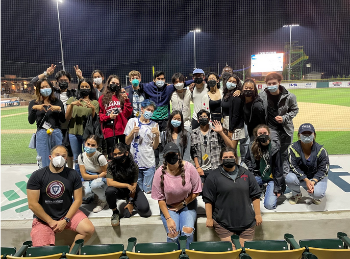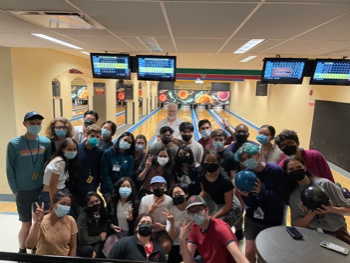 Added on July 30, 2022 by Jay
This summer, over 6 weeks, I will be immersing myself at Purdue University in West Lafayette, Indiana, conducting genomics research using an automated chemostat bioreactor to develop antibiotic resistance in the bacterium Vibrio natriegens. A total of 24 students were selected globally to participate in the inaugural program in Genomics -organized by The Summer Science Program (SSP). SSP runs programs in Astrophysics and Biochemistry but this is the first year they have implemented a program in Genomics.
To have been selected, to say the least, is an incredible honor and I am very much looking forward to this experience.
I fly out to Indiana this Sunday, fully aware that I will be engaging in higher level academics for most of the summer. The student handbook poignantly states "Alumni often say that college is easier than SSP....yes, even Harvard, MIT, or Caltech."
I eagerly await the challenge.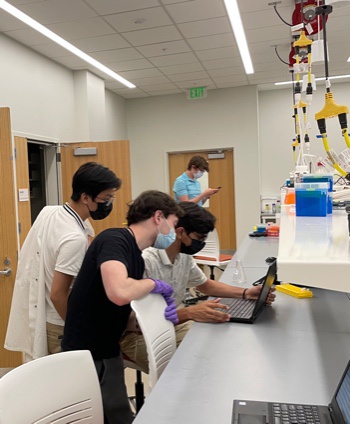 Added on May 30, 2022 by Jay
Finding volunteering opportunities was tough going during the early COVID-19 waves but as cases have subsided, along with increased vaccinations rates in Florida, those elusive opportunities to give back to our community have emerged once again.
Full IB Diploma students are required to earn 150 hours of service and most WPS IB students accumulate that in a single year - at least the ones I have spoken to. But the real benefit of service goes far beyond scholarships and IB requirements.
The benefits of volunteering and giving back include:
Social: You can use service to meet new friends and build relationships within your community - beyond your school and extracurricular activities/sport
Physical: Most service requires a degree of physical movement and that's a good thing - especially if the pandemic has reduced a lot of your typical activity
Mental State: Meeting new people will almost always boost your own self-esteem and confidence
If you are looking for volunteering opportunities this summer, I have a network of people around Windermere/Winter Garden that are looking for teens like us to give back. Contact me for more information!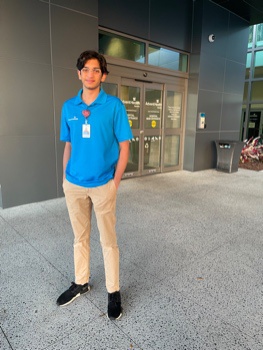 Added on February 1, 2022 by Jay
The title of this blog post 'sometimes you just need a friend' is the slogan for my Connect A Kid nonprofit. My goal is to bring neurotypical friendships to neurodiverse teens in Central Florida. If you would like to volunteer, please sign up for the Connect A Kid club at WPS or email me for more information.
Added on December 10, 2021 by Jay
It is no secret that the pandemic has made millions of workers rethink their employment and that has put enormous strain on countless businesses. Through the pandemic, I have found myself working at various positions at a breakfast cafe, as have countless other teens, to help their family businesses in these challenging times. The process has opened my eyes to the hardships faced by so many as a result of COVID-19.
One of the biggest things I learned working in the restaurant industry is how much of the work is team-based and when one member of team isn't there, it puts an exponential strain on others that remain. The staff shortages almost contribute to more staff shortages as a result of this work dynamic created by an external public health event.
I also learned how working in a close team needs effective communication to thrive and improve efficiency. When I first started as a bussing tables, I didn't understand the need to communicate with the servers but after a few days I observed that I was playing a vital role in clearing tables for the next guests to be seated. Effective communication with others helped me allocate my time more effectively.
Another thing, working at a busy cafe taught me, was the power of observation. As I worked every position at a restaurant, I quickly learned how observing my team and patrons could help me avert or resolve potential problems for the benefit of everyone.
But, most of all, I learned how to make a pretty phenomenal Eggs Benedict!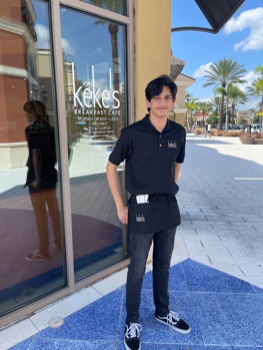 Added on December 8, 2021 by Jay
I am sure each one of you knows someone who is affected by Autism. One out of every 100 people have Autism according to the National Autisitic Society. (This does not include people who may have milder or spectrum disorders.) This disease is something which can affect anyone regardless of gender, race, or sex. I personally know a handful of children who have been diagnosed with Autism. The growing number of children being diagnosed with Autism is something which needs to be addressed within our society. Autism Speaks is a charity which not only helps people with Autism, but increases awareness and helps fund research to find a cure. Knowing three boys with Autism I chose to help Autism Speaks in its mission by raising funds for donation. In middle school I had always participated in fundraisers but this was the first one I would be doing on my own. I chose to raise money by selling something I love to do - bake! I got to work making brownies, cookies, banana bread, and even churros! I single handedly raised $137 for Autism Speaks.
While I know this is a small amount, I felt the bake-a-thon gave me a deeper understanding of Autism. As I baked each dessert and spent hours perfecting them, I realized this could possibly be a fraction of the time a person living with Autism spends struggling. The time and dedication it took to bake allowed me perspective into how difficult even simple tasks may be for a person with Autism. Ironically, baking for an organization that increases awareness, increased my awareness of Autism.
I have seen students be apprehensive to interacting with special needs kids, but raising money for a charity organization that is important to you is a great way to help out. Let me know if anyone wants to contribute to future peer support fundraising projects.
Added on September 7, 2021 by Jay
Club Day was a huge success for Reach A Student and the other club I am President of, Connect A Kid. With the latter, the number of new team members has grown to over 25 and I couldn't be happier. We will be making a real and positive impact in both special needs schools locally and supporting the neurodiverse homeless that need our support - arguable more than any other group. Systemic issues with funding (more on that in another blog entry) and with the education system has left too many without the support they must have. After Club Day, a lot of questions I got involved getting precise details as to what 'volunteering' entailed at the homeless shelter and the answer really includes a diverse set of activities. Sometimes it's as easy as making coffee for people or moving inventory of supplies.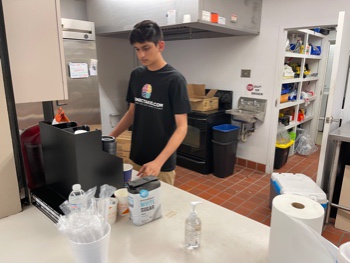 Added on August 19, 2021 by Jay
You know that feeling you get when you take a shower after a long, hot, Florida day? Maybe you've just finished a work out at the school gym or just ran track and all you want is to wash away the sweat. Now imagine you are homeless with no access to running water, let alone a shower. Unfortunately, that is what a lot of homeless Central Floridians face every single day.
Recently, I went to explore ways we, as Windermere Prep students, can do to make life for so many in our community a little bit more comfortable and volunteering at the Christian Center on Central Blvd showed me a side of Orlando I didn't know existed. At the Christian Campus - a faith based community organization - volunteers help sort clothes and wash clothes of the homeless. Showers are provided and hearing the last call of the day, meant many citizens wouldn't get their chance to wash the day away in one of just a few mobile shower stalls. It hits hard.
Over the coming weeks, I hope I can count on a lot of my friends and peers to support this great cause. More details to follow.....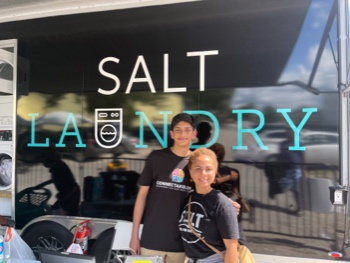 Added on February 20, 2021 by Jay
Even though we've lost a lot of great players and had many out for various reasons this week, the season opener against Foundation Academy couldn't have gone much better. Our varsity players really came together and played with a lot of heart. The many weeks of early morning conditioning sessions along with a rigorous 5 day a week practice schedule has brought out the best in this young Laker team.
Today's 18 to 3 win on our home field is the start I hope of a terrific season that I'm really looking forward to being a part of. I've played Lacrosse at Windermere Prep since 6th grade and as a starting sophomore, I could not be more excited and optimistic for where we are at as a team.
Jay Khemchandani
Added on March 18, 2019 by Jay
If you are an 8th Grader like me, you probably have a lot of questions about course selection for next year. One of the most difficult decisions I think I will be facing as I enter high school, is whether or not I should challenge myself and take Mr. Zoslow's AP U.S. History class. Over the past week, Reach A Student mentors have been receiving a lot of questions about this class and some students suggested we interview Mr. Zoslow. He has been kind enough to share some of his thoughts and if there is a question you would like him to answer, please email them to me at jaykhem411@gmail.com and I will be happy to forward them to Mr. Zoslow for review. I will keep updating this blog post, so be sure to check back often for the latest Q & A.
When you spoke to the 8th graders about your class a few weeks ago, you said that there would be 90 minutes of homework required every day, even on weekends! Students have pointed out that the workload for the same class in other schools in Central Florida, is not as rigorous, do you think this is true and if so, why is there a difference?
I cannot speak for other schools, but these students at WPS in 8th grade can ask former AP students at WPS with regard to whether the rigor prepared them not only for their exam in May but also better prepared them to step into IB.The rigor of AP United States History should not be seen only within the context of this one class but also within the context of creating a competitive academic edge for pursuing the most challenging course work through the WPS IB programs.
Another question asked by a student was how were they expected to do 2 hours of extracurricular activities, plus your class homework as well as homework from other rigorous classes?
Each student should choose a level of challenge that is most appropriate for them to pursue, some course selections are less rigorous and should be selected by those who place a higher value on extra curricular activities. WPS provides a curriculum to suit everyone's desired level of rigor. Students highly involved in athletics, robotics, theatre and so on have moved through AP United States History with great success because of their desire for rigor both within and outside of the classroom, as well as aided by a strong sense of discipline, organization and commitment. Please reach out to students who have completed AP United States History in order to get a peer perspective on the course.
Ask! AP Human Geography Award Winner Alex S. OR Ask! Current 9th Grade Student Sajan S.
How can 8th graders prepare themselves for your class next year, maybe something over the summer?
Please see letter below.
Is the summer reading the same book that you will be using for your class or is it just a supplementary resource?
Please see same letter below. However, should any student enrolled for AP United States History wish to have a text for preview over the Summer they are more than welcome.
Besides the summer reading, do you have any other suggestions that might help students perform better in your class or to be more efficient in their homework?
Read this website's blog for insight from one of the current AP Human Geography students. Discipline, organization, commitment, and a high work rate are beneficial qualities that ease the transition into AP United States History. Making the jump from Middle School academics to college level academics is difficult.
How important is note taking in your class and if so, what are some good note taking tips that you can give to your students?
It depends on the student...some students require significant note taking whereas others are better suited to focus on listening and mental processing skills. Also, participating in class discussion is critical to higher level thinking and for students to better integrate themselves with the materials on a richer and more meaningful level.
What are some good ways for students to study for your exams?
Use the course study tools, Textbook, Outlines, Essential Daily Questions, Vocabulary, and after school study sessions, and using these study tools daily to build up the maximum possible knowledge over time for the exams.
Why do you think students should take your class?
This course is not about what I think but about what students think and value...if academic rigor on a college level as a freshman in high school is a valued challenge then wonderful, if not, then that is wonderful as well. "Know thyself..."
To go along with my previous question, what do you think is the core message of your class and what do you stress most for your students?
Again, this class is not about me but teaching to an international standard that will be tested on a Global scale in May...AP United States History is about everything there is to know about the world today, to even attempt mastering this takes significant risk taking, hard work, and humility -the understanding that there is much to learn in less than 10 months. These qualities also happen to be or are similar to the IB Learner profile qualities.
Is there anything else you would like students to know?
My door is always open, for those in AP United States History, and for those who pursue other paths, every answer will always lead to another question and to that end it will be my pleasure to answer in person any questions concerning any element of the high school experience.
Dear AP United States History Students,
I look forward to working with you at WPS as your AP Human Geography teacher. Your suggested Summer Reading to best prepare you for the course is as follows:
Barron's AP U.S. History, 5th Edition (paperback)

Authors: Meredith Marsh, Ph. D., and Peter S. Alogona, Ph. D.

Publisher: Barron's Educational Series, 2014

ISBN-13: 978-1-4380-0282-8 (unique identification number for text)
This text and edition provides you with an initial diagnostic exam, as well as dividing the course into sections with exams to test your understanding and retention of material. Additionally, it breaks down material into simplified units for increased comprehension.
This text cannot guarantee results. However, by reading through the materials your understanding of the course information will be richer, and the transition into your AP United States History course will be made more seamless.
Should you or your parent(s) have any questions please do not hesitate to e-mail me. I will have only sporadic access to e-mail over the Summer, and e-mail will be the best manner to communicate with me. My best wishes to you and your family for a happy and healthy Summer!
Sincerely,
Justin Lee Zoslow
Social Studies Faculty Residential Dean
Added on February 19, 2019 by Jay
Latin competitions are some of my most favorite events to compete and participate in. Dr Fields is such an incredible teacher and has been teaching Latin at WPS for so many years and encourages anyone who takes the class to participate in these events. What is really nice is that you instantly become part of a larger community of students that enjoy the treasured aspects of this ancient language and culture. I hope to be a part of Latin events for many years to come.