Archives: December 2021
Added on December 10, 2021 by Jay
It is no secret that the pandemic has made millions of workers rethink their employment and that has put enormous strain on countless businesses. Through the pandemic, I have found myself working at various positions at a breakfast cafe, as have countless other teens, to help their family businesses in these challenging times. The process has opened my eyes to the hardships faced by so many as a result of COVID-19.
One of the biggest things I learned working in the restaurant industry is how much of the work is team-based and when one member of team isn't there, it puts an exponential strain on others that remain. The staff shortages almost contribute to more staff shortages as a result of this work dynamic created by an external public health event.
I also learned how working in a close team needs effective communication to thrive and improve efficiency. When I first started as a bussing tables, I didn't understand the need to communicate with the servers but after a few days I observed that I was playing a vital role in clearing tables for the next guests to be seated. Effective communication with others helped me allocate my time more effectively.
Another thing, working at a busy cafe taught me, was the power of observation. As I worked every position at a restaurant, I quickly learned how observing my team and patrons could help me avert or resolve potential problems for the benefit of everyone.
But, most of all, I learned how to make a pretty phenomenal Eggs Benedict!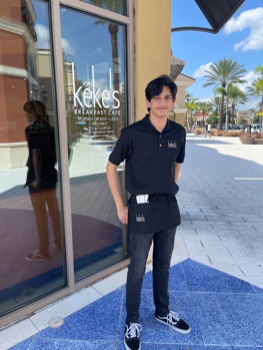 Added on December 8, 2021 by Jay
I am sure each one of you knows someone who is affected by Autism. One out of every 100 people have Autism according to the National Autisitic Society. (This does not include people who may have milder or spectrum disorders.) This disease is something which can affect anyone regardless of gender, race, or sex. I personally know a handful of children who have been diagnosed with Autism. The growing number of children being diagnosed with Autism is something which needs to be addressed within our society. Autism Speaks is a charity which not only helps people with Autism, but increases awareness and helps fund research to find a cure. Knowing three boys with Autism I chose to help Autism Speaks in its mission by raising funds for donation. In middle school I had always participated in fundraisers but this was the first one I would be doing on my own. I chose to raise money by selling something I love to do - bake! I got to work making brownies, cookies, banana bread, and even churros! I single handedly raised $137 for Autism Speaks.
While I know this is a small amount, I felt the bake-a-thon gave me a deeper understanding of Autism. As I baked each dessert and spent hours perfecting them, I realized this could possibly be a fraction of the time a person living with Autism spends struggling. The time and dedication it took to bake allowed me perspective into how difficult even simple tasks may be for a person with Autism. Ironically, baking for an organization that increases awareness, increased my awareness of Autism.
I have seen students be apprehensive to interacting with special needs kids, but raising money for a charity organization that is important to you is a great way to help out. Let me know if anyone wants to contribute to future peer support fundraising projects.