Archives: May 2022
Added on May 30, 2022 by Jay
Finding volunteering opportunities was tough going during the early COVID-19 waves but as cases have subsided, along with increased vaccinations rates in Florida, those elusive opportunities to give back to our community have emerged once again.
Full IB Diploma students are required to earn 150 hours of service and most WPS IB students accumulate that in a single year - at least the ones I have spoken to. But the real benefit of service goes far beyond scholarships and IB requirements.
The benefits of volunteering and giving back include:
Social: You can use service to meet new friends and build relationships within your community - beyond your school and extracurricular activities/sport
Physical: Most service requires a degree of physical movement and that's a good thing - especially if the pandemic has reduced a lot of your typical activity
Mental State: Meeting new people will almost always boost your own self-esteem and confidence
If you are looking for volunteering opportunities this summer, I have a network of people around Windermere/Winter Garden that are looking for teens like us to give back. Contact me for more information!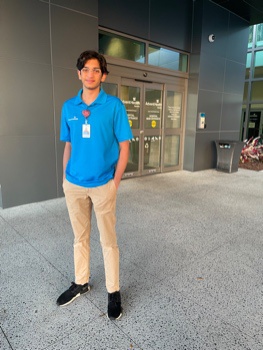 Added on May 19, 2022 by Afreen.A
I'd like to think that I'm perfect.
Without flaws
Not bruised and unscarred
But I can't paint pretty pictures
Of all my spontaneous thoughts.
For they seem too scattered at times.
I cannot paint striking pictures for you,
These thoughts of mine cannot be translated.
But I will tell you this,
I am not what I seem.
I can't sing in a falsetto tone.
Beautiful
Haunting
Melancholic
And a little bit sweet.
It has an uncanny habit of falling out of tune,
you see.
Nor can I play for you,
For my fingers seem to fumble and shake.
Nor can I bake a perfect cake
Or bend my body in a different million ways.
I will never be her…..
Or them
Or even like you.
But that's alright,
I'm proud to be me
-Afreen Ashraf