Reach A Student Blog
Added on May 30, 2022 by Jay
Finding volunteering opportunities was tough going during the early COVID-19 waves but as cases have subsided, along with increased vaccinations rates in Florida, those elusive opportunities to give back to our community have emerged once again.
Full IB Diploma students are required to earn 150 hours of service and most WPS IB students accumulate that in a single year - at least the ones I have spoken to. But the real benefit of service goes far beyond scholarships and IB requirements.
The benefits of volunteering and giving back include:
Social: You can use service to meet new friends and build relationships within your community - beyond your school and extracurricular activities/sport
Physical: Most service requires a degree of physical movement and that's a good thing - especially if the pandemic has reduced a lot of your typical activity
Mental State: Meeting new people will almost always boost your own self-esteem and confidence
If you are looking for volunteering opportunities this summer, I have a network of people around Windermere/Winter Garden that are looking for teens like us to give back. Contact me for more information!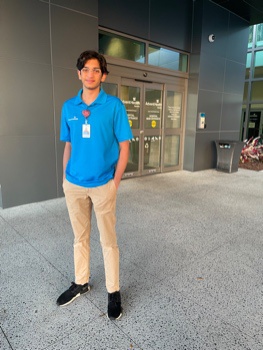 Added on February 1, 2022 by Jay
The title of this blog post 'sometimes you just need a friend' is the slogan for my Connect A Kid nonprofit. My goal is to bring neurotypical friendships to neurodiverse teens in Central Florida. If you would like to volunteer, please sign up for the Connect A Kid club at WPS or email me for more information.
Added on December 10, 2021 by Jay
It is no secret that the pandemic has made millions of workers rethink their employment and that has put enormous strain on countless businesses. Through the pandemic, I have found myself working at various positions at a breakfast cafe, as have countless other teens, to help their family businesses in these challenging times. The process has opened my eyes to the hardships faced by so many as a result of COVID-19.
One of the biggest things I learned working in the restaurant industry is how much of the work is team-based and when one member of team isn't there, it puts an exponential strain on others that remain. The staff shortages almost contribute to more staff shortages as a result of this work dynamic created by an external public health event.
I also learned how working in a close team needs effective communication to thrive and improve efficiency. When I first started as a bussing tables, I didn't understand the need to communicate with the servers but after a few days I observed that I was playing a vital role in clearing tables for the next guests to be seated. Effective communication with others helped me allocate my time more effectively.
Another thing, working at a busy cafe taught me, was the power of observation. As I worked every position at a restaurant, I quickly learned how observing my team and patrons could help me avert or resolve potential problems for the benefit of everyone.
But, most of all, I learned how to make a pretty phenomenal Eggs Benedict!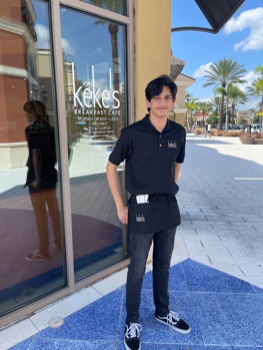 Added on September 7, 2021 by Jay
Club Day was a huge success for Reach A Student and the other club I am President of, Connect A Kid. With the latter, the number of new team members has grown to over 25 and I couldn't be happier. We will be making a real and positive impact in both special needs schools locally and supporting the neurodiverse homeless that need our support - arguable more than any other group. Systemic issues with funding (more on that in another blog entry) and with the education system has left too many without the support they must have. After Club Day, a lot of questions I got involved getting precise details as to what 'volunteering' entailed at the homeless shelter and the answer really includes a diverse set of activities. Sometimes it's as easy as making coffee for people or moving inventory of supplies.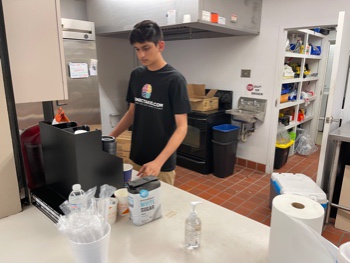 Added on August 19, 2021 by Jay
You know that feeling you get when you take a shower after a long, hot, Florida day? Maybe you've just finished a work out at the school gym or just ran track and all you want is to wash away the sweat. Now imagine you are homeless with no access to running water, let alone a shower. Unfortunately, that is what a lot of homeless Central Floridians face every single day.
Recently, I went to explore ways we, as Windermere Prep students, can do to make life for so many in our community a little bit more comfortable and volunteering at the Christian Center on Central Blvd showed me a side of Orlando I didn't know existed. At the Christian Campus - a faith based community organization - volunteers help sort clothes and wash clothes of the homeless. Showers are provided and hearing the last call of the day, meant many citizens wouldn't get their chance to wash the day away in one of just a few mobile shower stalls. It hits hard.
Over the coming weeks, I hope I can count on a lot of my friends and peers to support this great cause. More details to follow.....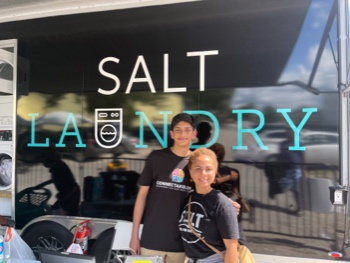 Added on March 5, 2021 by Sulayman.A
Whenever students finish a lesson at school, it is not uncommon that they have to do some required practice at home. Although this may not be graded, it is just as important. Many students overlook the importance of homework and simply think they are fine without it.
Doing work just at school will not be enough practice for you, but homework is a way for students to understand if they are getting better, or worse. Some students feel scared to hand it in because they did it wrong, but that is okay. Homework is just practice, and if you are not doing well in it, teachers will be more than welcome to help you get better. Most teachers use homework to apply what you learned in class to problems that you can practice, so that students can have a better understanding of what they are learning.
Especially when studying for exams, homework is especially useful because you can use these documents to look back at what you learned all year and practice the content. Sometimes, teachers provide a study guide for the exams for you to practice which is also really important to complete as well. However, you cannot always rely on teachers posting these guides for you because they may ask you to use the content from the past year. If you have done homework in that course, it will be very easy for you to study for the exam, but if you did not complete the homework, you will have a much harder time studying for exams.So for people who despise the homework system, it is a very useful tool for many students, and even though you think you do not need to do it, it is always good to complete it because the more practice you have, the better you will do on quizzes, tests, and exams
Added on February 20, 2021 by Jay
Even though we've lost a lot of great players and had many out for various reasons this week, the season opener against Foundation Academy couldn't have gone much better. Our varsity players really came together and played with a lot of heart. The many weeks of early morning conditioning sessions along with a rigorous 5 day a week practice schedule has brought out the best in this young Laker team.
Today's 18 to 3 win on our home field is the start I hope of a terrific season that I'm really looking forward to being a part of. I've played Lacrosse at Windermere Prep since 6th grade and as a starting sophomore, I could not be more excited and optimistic for where we are at as a team.
Jay Khemchandani
Added on January 12, 2021 by Nolan.M
Taking 4 HLs is pretty much the most difficult schedule you could possibly have at Windermere prep. These 4 HLs, with 2 more SLs and an elective, create the most rigorous schedule possible. All of these hard classes on top of the other things required by the IB Diploma make for an extremely difficult week. However, there are some things you can do in order to make the week a little easier. Yes, it will require some effort and doing some extra work when you need to, but it looks really good on your transcript and thus will give you the edge over other students in the IB Diploma program.
Planning
Each weekend, you have both Saturday and Sunday to plan your week out ahead of you. The best way to do this is to look on the canvas and check what each of your teachers has scheduled for you and when. You will want to pay attention to what is summative, as this will take up the majority of your time. However, this is not to say that formatives are not important, but summative assessments are definitely something that you should focus more of your time on. Once you figure out what summatives you have, you will want to check if they are tests or projects, and then figure out how much time each assignment will take you. Is studying for the chemistry test going to take you a whole day? Then do your other assignments on different days and leave a whole day for chemistry. This is easily the best way to look ahead. It's critical that you do this on Saturday so that you can plan ahead and get as much work done as possible on Sunday.
Studying
You want to make sure you leave yourself a good amount of time to study for any test given to you. Sometimes it might be an easy test, in which case you don't need to leave yourself a lot of time. However, when you get the time to study, you will want to use it wisely, and not waste the time on your phone or doing other stuff. I find that the best ways to study are to watch youtube videos, read the textbook chapter for the class you are in, and doing practice IB questions that you can find online at ibdocuments.com or that your teacher has given to you. These are the easiest ways to study for me, but everyone has different methods. However, it is crucial that you use your time wisely.
Time Management
This is the single most important element in making sure you don't struggle in IB classes. You need to effectively manage your time so that you are able to devote a good amount of time to each classes assignments. Falling behind in one class is not something that you want, as this can cause further issues in the long run. Thus, you will want to make sure you allocate your time effectively in order to maximize your time. If you have extra time, you can use it to do other stuff. I find it effective to make sure I have all my work done for the day before I start giving in todistractions. I think that going back and forth between your phone and your work makes the whole process take longer. Overall, time management is more of a personal thing on how you decide to manage your time, but finding the way that works for you is crucial.
Extracurricular's
While taking 4 HLs on top of the other rigorous things IB requires is hard, it doesn't mean that you have no opportunities to do other things. Currently, I'm able to work a part-time job, play guitar, and hang out with friends while still being able to excel in my courses. You want to make sure you give yourself a healthy balance rather than make your entire life be about school. Take a break every now and then and allot some time to just chill out and relax. The IB curriculum is stressful, so it is only healthy to take some time to yourself. Naturally, school should come first. However, a healthy lifestyle should be a close second. Getting enough sleep and being social is crucial to maintaining a healthy lifestyle. Hopefully, if you manage your time well enough, you will be able to maintain a healthy lifestyle while still excelling in your courses.
Added on December 9, 2020 by Valeria.C
As a new student, I know how difficult switching schools can be especially during these times where we are all going through huge changes in our lifestyle. At times you may feel overwhelmed over the amount of new information that you are constantly receiving, and these feelings are normal but remember, don't fret too much, because at some point or another it is very likely that everyone has been new somewhere or at something and has gone through this process. Based on my experience, these are a few tips that I recommend to make this transition a lot smoother:
● Try to keep organized- stress is instantly amplified if you feel like you have too much going on at a time or like you aren't on top of things. Something that has helped me to combat this, is this app called memo on my laptop, where I can keep little sticky notes on my desktop, where I store my agenda for the day and keep a checklist of everything I need to do.
● Keep in contact with your old friends, it doesn't matter if they're in another city, state, or even another country!- Maintaining a relationship with the people I miss has personally helped me when I started feeling homesick.
● It sounds cliche, but don't be afraid to ask for help- I promise it's not that big of a deal to ask questions if you're lost, it happens to everyone. No question is a stupid question, but if it is a stupid question at least you get a good laugh!
● Take time to settle in- Especially with IB, it could feel like there's a lot you have to do all the time, I know because I felt the same way (and still currently kind of do). There's a lot to think about, from all the papers to come, to TOK, to the CAS portfolio, etc. but there's also a lot of time to think about that. Don't feel like you have to figure out everything right now, take your time.

As long as you don't take yourself to seriously and keep a positive attitude and open mind, a very overused motivational phrase, but still very true, you'll be just fine.
Added on November 2, 2020 by Gabriela.R
Ever wondered how you can get involved with Windermere Prep's wonderful fine arts programs and all it has to offer, without needing any musical talents or abilities? Trust me, I know what it's like to have no artistic, musical, or athletic talent and be lost on what I could possibly do after my school days to boost my resumé and gain valuable experience.

That's when I looked towards Windermere Prep's Cypress Center, the new and beautiful building in the center of our campus, dedicated solely to the fine and performing arts. This is where you go to watch our high quality performances and take fine art classes, but it is also so much more than that. This is where I met wonderful people, gained trust from my superiors, learned incredible skills and knowledge, and most importantly, had some of the best memories of my Freshman year.

I chose to work in the costumes' department for our 2019 school-wide performance of "The Little Mermaid" and the 2020 high school performance for "Alice in Wonderland," as well as our elementary school production of "Once Upon a Mattress." More specifically, I was the assistant to the costume director during the months of rehearsals and preparations, and during the actual shows I was in charge of all things regarding costuming and helping out at the dressing rooms and keeping children supervised and ready while they were backstage. In total, I logged 140 hours towards my community service credit by helping out in these productions, and it was worth every minute. You don't have to work only with costumes, of course, you can help out in props, sets, lighting, sound, or you can be a Cypress Center Ambassador.

Although these can sometimes be too much of a commitment for some, there are so many small things you could do to help out with and support the fine arts at our school! For example, before every production there are always sets and props that need to be made and painted, and you are always welcome to volunteer for these designated "set building" days and get community service hours for painting while having fun with friends and meeting new people. Another way to support the Cypress Center and all its performers is to come and watch the various concerts and plays we have throughout the year, which are all of exceptional quality and talent, and will definitely be worth your time.

The takeaway is that if you are looking for an after-school commitment or just for a way to collect your required community service hours, reach out to a superior at the Cypress Center in charge of your area of interest and request to speak with them, and I am sure they will accommodate you with what works best for you. I formed great friendships and trust with all the casts, directors, and fellow helpers, and I couldn't be more grateful for it all. I welcome all to experience the incredible fun that is being behind-the-scenes, it is truly magical.
Added on September 30, 2020 by Aamda.H
When entering 10th grade, students are faced with a decision of what History they are going to choose. For me, this was a tough decision that took weeks contemplating the pros and cons of the course and how it would affect me throughout the year. My main concern was the uncertainty of knowing if I would be able to handle it because my biggest fear was to choose the course and potentially fail. However, taking an Ap course looks very well to colleges, and it is always beneficial to challenge yourself. If you are faced with the decision whether or not to take the course, I recommend you go for it. Throughout the year, I experienced many hard moments, and the course is challenging for everyone at least once, but I do not regret my decision. I grew significantly as an academic learner through the class. It helped my study skills, time management, and prepared me for IB History. I am currently in my second year of IB HL History, and I have been able to apply my knowledge from Ap European History to my assignments. This is very beneficial, especially when juggling my six other IB classes. Overall, if you ever have to make a decision about a particular class, I recommend challenging yourself. It will improve you as a learner and help you for future challenges.
Added on August 18, 2020 by Hannah.L
No one wants to come home from a long day of school and sports and do tons of homework. Here are some tips on how to get it done quicker and with less stress:

Turn off distractions
When you do sit down to do your work, turn off your phone. You will get things done quicker and will have more time to do what you want to do.
Be productive any time you can
Do work whenever you get the chance during the school day, like during SRT or on the way to and from school.
Plan ahead
Spending five minutes to plan your week and the assignments coming up is so worth it. Instead of taking time to decide what you need to do next or whats most important, you will already know and you can just do it.
Choose assignments wisely
This one is pretty obvious, but do your work in order of whats due, not what you think is hardest. There is no reason to be studying for your bio test next week when there is a history essay due tomorrow.
Added on May 13, 2020 by Shailee.S
Recently after traveling to downtown Orlando, I noticed there were more homeless people than usual. My mom told me a lot of shelters were at capacity and many homeless were forced to live on the streets. Things got worse over the next few weeks and I realized that while I could not change the situation many of the homeless people were in, I could give them food to help them during these hard times.
With COVID I could not distribute food directly to the homeless, but I discovered a program called Service and Love Together, SALT who I could volunteer with. SALT not only provides food, but also mobile showers! The volunteers went above and beyond and also gave the homeless an opportunity to wash their clothes. I saw this as an opportunity to combine two things I am passionate about: cooking and service.
I contacted SALT and they granted me the opportunity to create snack bags. My 100 snack bags were filled with oranges, granola bars, and waters. I handed these bags out while people were waiting for the main meals. I watched as different people came up and received a bag. They were so thankful for such a small item. The compassion they showed to each other and to the volunteers was moving. To them, it didn't matter where you were from; they just wanted to take care of each other.
I continued making snacks and meals for SALT on a weekly basis. One of the most touching moments that left me with an indelible impression was a cute woman with a red flowered fishing hat. She approached us as we were walking back to the car and complemented how much she loved my mom's shoes. I smiled at her and told her how these were my mom's 20-year-old shoes that had lasted her through everything. I watched as the woman listened intently and told me about her shoes which were torn and ripped in all different places and how they had lasted her only 7 years.
When I got home, I got to work scourging all the closets in the house looking for old shoes. I ended up compiling 18 pairs of shoes amongst everyone in the house! The following week when I went back to SALT to hand out food and shoes. I gave the woman with the red hat the shoes she loved so much, hoping that my mom's shoes would last her another 20 years. :)
SALT is an amazing place to volunteer and they have a variety of duties to be involved with! If you enjoy cooking, they love to have people make meals and donate them. However, there are other ways to help like donating clothes, snack bags, and shoes! Don't hesitate to reach out and see ways you can help.
Added on April 22, 2020 by Shailee.S
Our lives during the COVID-19 pandemic have changed drastically. Everyday new information is released about prevention and what can lead you to have a higher infection rate. Consistently, throughout all the information, seniors (people over the age of 60) have a greater chance of contracting the virus and becoming seriously ill when exposed to COVID-19. After learning this, I thought about my grandparents and how they could potentially be affected. In order to keep my grandparents safe, my parents and I brought them all the supplies they needed including masks, sanitizing wipes, hand sanitizer and groceries. I continuously saw why nursing homes and assisted living facilities were the highest risk for a dramatic spread of the virus: I felt compelled to help them in some way. I learned the best method to prevent the spread of disease was the use of PPE (Personal Protection Equipment), especially N-95 masks. As I called a few local senior assisted living facilities, I realized they did not have the proper supplies for their staff or residents. After researching manufacturers, I was able to find a local company selling N-95 masks. I organized a fundraiser and was able to raise enough funds to purchase 100 masks.
Donating PPE to The Commons Senior Care Facility was similar to a child in a candy store. Nurses and residents were ecstatic to be able to protect themselves and residents. They came running up to me and I was instantly surrounded by eager faces wanting PPE. They were so thankful for the small amount I could provide, just so they could do their jobs. Additionally, to help keep the residents safe, I invited a local doctor to speak about the proper ways to reuse masks and prevention of COVID. I hope my minor efforts to help prevent the spread of COVID-19 helped keep someone's grandparents safe.
Even if you are not a healthcare provider, there are many different ways to get involved including sewing masks, donating masks, and even just showing your appreciation for healthcare workers.
Added on April 3, 2020 by Jasleen.S
What is TAP: TAP is a fifteen minute presentation in front of all of your teachers! I remember making 8-12 connections for each of my classes. It seems a little stressful, but you need to make sure you prioritize your time. I recommend students to choose a challenging topic or a unique topic. For example, My presentation was about Neuroscience. I suggest you should finish your connections as soon as you can, your teachers definitely would go over your script and help you out with any unclear connections. You should explain each connection thoroughly (5-6 sentences ). Your connections are basically the base for your script! Before you start your actual script make a rough draft or outline your connections. Your script is required to meet 15 minutes and no more than 15 minutes. I know, it may seem like a lot! But, you would actually want to write more than 15 pages. A tip: During your presentation, use notecards for key points.
Visual Aids: I definitely would recommend to use visual aids. For example, I used a sheep's brain, and I make a jello brain with gummies in it (gummies=brain disease) During my presentation, I also gave they teachers an opportunity to dissect the brain with dissecting tools.
Layout for your Connections: 8-12 connections (depending on each subject/teacher)
Connection #1
How does it relate:
Connection #2:
How does it relate:
Connection #3:
How does it relate:
Connection #4:
How does it relate:
Connection #5:
How does it relate:
Connection #6:
How does it relate:
Connection #7:
How does it relate:
Connection #8:
How does it relate:
Script: You should definitely make a rough draft because you will be deleting a lot of information on your script. I remember when I first timed my presentation, it was around 24 minutes. You basically have to simplify and shorten your script. Make sure your script is not boring, you don't want to lose your teacher's attention. Make some jokes, interact with your teachers during your presentation!
Presentation: Again, Don't lose their attention! Your teachers don't want to hear a 15-minute long speech. You might be nervous and it's okay! Your teachers will understand, just make sure you memorize your speech and know what you are talking about. If you mess up, its okay, play it off and keep going! If you ever need to talk to someone about TAP, talk to freshmen or sophomores about it. Ask them for their advice and their experience! I couldn't stress more to use notecards. Note Cards could be used to help you with the order of your script, bullet points you want to address during your presentation. Just read your script over and over! Don't be nervous and I'm sure you'll do great!
Added on April 2, 2020 by Shailee.S
During the COVID-19 pandemic, our daily lives and schedules have changed drastically. Many people are stuck at home unable to go to their jobs or see family and friends. These changes have caused many of us to feel emotional and affected our health. We are unable to workout at gyms, and I think we can all agree that being stuck at home has led to a lot of unhealthy eating habits. With my extra time I have been cooking and baking everything that comes to mind! After a couple weeks of this I realized how unhealthy I felt. I had thrown out my workout schedule and stopped being productive in my day. I realized I needed to take care of myself, we all need to take care of ourselves! The below is a list of things you can do to feel better during quarantine.
a. Working out should be an important part of everyone's day. It allows for the release of endorphins which makes us feel happier. Even just walking for a few minutes outside every day will improve your health and fitness. Exercise also helps keep a schedule in your life. During these troubling times, there is little to no schedule and it makes us feel lazy. By working out, we can reintroduce structure into our lives and start getting back into our daily routines.
2. Eat Well
a. When we are stuck at home it is easy to always feel hungry especially when you are bored. If you are like me and found yourself constantly snacking, instead of eating chips or cookies try to eat some different things.
i. Instead of chips have apples, the crunch of an apple is pretty similar to that of a chip.
ii. Instead of cookies, have a banana and peanut butter.
iii. Instead of having ice cream, freeze some grapes as snack.
iv. Instead of eating Takis or Flaming Hot Cheetos, have wasabi peas.
There are healthy alternatives for everything you want and you just have to find the right snacks for you.
b. Avoid caffeine if you don't normally drink it. Caffeine is a stimulant and jump starts your brain and heart. It also creates a dependency. Once your brain uses coffee to get a jump start you will see yourself needing it more and more to keep yourself awake caffeine can make you jittery and anxious too.
i. Instead of consuming caffeine have a smoothie with some fruit yogurt and ice. It will energize you just as much as coffee!
By making these small changes you will see yourself feel so much better and happier during quarantine.
Added on March 10, 2020 by Manya.A
Do you ever wonder how to get involved in student activities or how you are able to communicate with teachers and other students when you are not at school about school related things? The answer is through emails. Since not everyone has the phone numbers of every single student, and definitely not the numbers of teachers, many people like to communicate about school related things through emails.
For example, the SGA, especially the High School SGA loves to try to increase grade and school involvement through emails. These emails may give links to sign up for Spirit Week Events or links to sign up for contests where you can win Free Homecoming Tickets and things like that. Emails are often sent to the entire grade, and they often contain valuable information not just about how to get involved, but many important memos such as PSAT Locations, Field Trips, and College Planning Meetings.
It's not only just the SGA and Lead Faculty that loves to communicate through emails. Many other clubs love to communicate through emails as well about meeting days and locations, and ways to collect information like T-Shirt sizes. Even teachers use emails to communicate memos about their classes like their lesson plans, quiz reminders, study guides, and location.
So, if all these people use emails for many reasons, why don't you? The email system, despite sounding boring and not as quick as text messages, is still a fabulous form of communication. It is professional, formal, and leaves a great impression on your teachers. Emails are a great way to ask your teachers questions, schedule meetings among members of the Laker Community, and blast out memos. Remember that when in doubt, check then write emails.
Added on February 14, 2020 by Isabella.M
Volunteering is a big aspect of academic life; it not only helps out with hours, but it also aids in building skills such as empathy, commitment, and it opens an opportunity to play a bigger beneficial role in the community around us. As known, many students look for volunteer opportunities, that is why I have interviewed Mrs. Danielle Newbold, responsible for Miles To Go, a charity organization that operates in the Orlando area.
1.How did MTG start? What was the original idea?
"Miles To Go began one afternoon at a red light on the corner of Turkey Lake & Sand Lake Rd. There was a panhandler there asking for money. Miles was in the backseat telling me to give him cash. "I know you have some Mom, why aren't you giving him any?!"
I had been putting this conversation off for awhile. Miles was not letting up this time and was getting quite upset. So I told him, "We can't be sure how he will use the money." Miles had the solution, "So then we need to give something else!"
We went home and brainstormed items to give. We googled, used our common sense and knowledge of our local weather. It was a great start!
Our original idea was to do this as a mother/son community service project. It didn't take long to realize that we were meant to do more!
Our first 150 empty bags were donated by Orlando Body & Movement Therapy. It was there that the name "Miles To Go" came to us as well.
From there we became a 501(3)(c) and have now packed/donated over 600 bags!"
2. How can the community help MTG on a daily basis?
"The community can and has been of great help! You can simply save your hotel shampoos, add a couple MTG supplies to your weekly grocery order, order from our Amazon wish list, order through Amazon Smile (.5% goes back to the charity of your choice), attend a packing day, host a supply drive…..so many options!"
3. What is MTG's goal?
"Our goal has been the same since the beginning; Spreading love one bag at a time. We do not have a monetary or quantity goal. We just want to help as many people as we can. We do that with our gift of a Miles To Go bag to the homeless & also by growing compassion in the person giving the bag out."
4. Can helpers get volunteer hours? How can they be a part of MTG?
"YES! Helping our youth is one of our favorite things! We love assisting you get your hours and growing compassion while you do it! You can do a supply drive with your club, team, church, family, so many options! You can also help in by getting supplies ready for packing (like folding t-shirts, pairing items, numbering cards, etc). Social media is a big one too! You can spread awareness, share our Amazon wish list and so much more!"
5. Do you have any future plans regarding the future of Miles To Go?
"On the horizon we have a brunch at Plancha (the Four Seasons) November 4th where a portion of the proceeds will be given to MTG & a packing day November 15th. Both are open to the public. We are excited to announce that Miles To Go was selected by Visit Orlando to be the philanthropic feature at their event in Tallahassee this December!
We are set to do a large school fundraiser in Ocala in February, are partnering with local schools and doctor's offices in Orlando, Windermere & Winter Garden and can be found in local gyms as well!"
*After that, if interested, I recommend you to find more information about Miles To Go and be a part of this amazing project in order to get some hours, help the community, and be a part of many smiles that come with the bags. If you have any questions, please do not hesitate to let me know!
Isabela Maluli.
Added on January 22, 2020 by Shailee.S
At a young age, I was fortunate to be able to attend a STEM after school program with one of my teacher's Mr. Falcionie. In school, Mr. Falcionie's science class was always my favorite because the class allowed me to work with my hands, critically think, and stimulate my deepest creativity. I was blessed to have access to this after school program, which allowed me to further my interest in the STEM field. I realized at a young age, this was something I wanted to work in for the rest of my life. This year, I had the opportunity to volunteer at Riverside Elementary, a Title 1 elementary school. I helped mentor 4th and 5th grade students, predominantly younger girls, on their LEGO robotics team afterschool. This opportunity allowed me to impact the next generation of learners and spark their interest in STEM - just like Mr. Falcionie did with me. I built a team of female STEM students to aid in providing individual mentoring.
As a group, we got to mentor and work with individual students. We taught them the benefits of trial and error and the concept of analysis. As mentors, our job was to foster independence while supporting them in learning STEM skills. Furthermore, we taught the students valuable skills such as communication, teamwork, and responsibility, which are all vital to success in STEM.
The most powerful moment for me was not seeing the complete robot, but seeing the robot take its first steps and fall. The kid's faces did not waver through this mishap, showing me their determination and their ability to problem solve. Leading up to that day when parts would break and mechanisms failed, the students would get frustrated. We took these opportunities to show them how to work with a failed result. Instead of letting their emotions get the best of them, they learned to ponder why the robot failed at its mobility and how to come up with a solution. The moment when the robot fell is one that I will always cherish because I could see the students actively applying our teaching.
Furthermore, the experience of mentoring was truly rewarding to me and it can be for you too. It is a great way to make an impact and help others. In order to gain experience in mentoring, tutoring can teach you how to work with all different types of people and also valuable skills you can utilize as a mentor.
Added on January 9, 2020 by Kristjana.P
Football can be considered the most popular sport in America; almost every high school in the U.S. highlights the sport. What is not usually highlighted is the group of people behind the scenes, assisting the players when they are on or off the field, the people who make the athlete's health their number one priority.
What the audience sees is a few girls carrying water racks at the football games, handing the athletes a bottle of water when they ask for it; what people don't see is the enormous responsibility that is placed on these students.
Every day, these students go to school and go throughout their day as any other high school student. When the bell rings, they rush to the Athletic Training room and get everything prepared for that day's practice. They tape writsts and ankles for the athletes that need the support. After that, they start filling up coolers with ice cold water, bring the coolers to the field, and fill up every water bottle to the brim.
They stand in the heat, making sure the athletes stay hydrated throughout their practice. The trainers often stay after practice just to make sure that everyone has made it off of the field safely and that there are no injuries. If the athletes do sustain an injury, however, they stay until their treatment has been completed. Most days, they stay for over 3 hours just making sure the athletes are in their best interest.
Every Friday night, the team plays a competitive game against another school, which everyone wants to do their best in. In order for the athletes to perform their absolute best, they need the assistance of their peers, who put their performance and health first.
Every injury sustained in a sport is treated by the Athletic Trainer, who is assisted by the Student Athletic Trainers. Every player is the student's responsibility: everything from bandaging a wound to rehabilitating an athlete who suffered an injury.
Not everyone can become a Student Athletic Trainer. In order to be considered for the responsibility, you need to be trustworthy, responsible, and dedicated. Learning the techniques needed for the part include taping wrists, fingers, and ankles for games. They need to become first aid and CPR certified so they are prepared for anything and everything regarding possible injuries.
Added on December 10, 2019 by Zaid.S
High School Mathematics is often perceived as a polarizing subject. This is because while it might come naturally to some students, there are a larger number of students who continue to struggle with it even after years of consistent learning. While 9th Grade Extended Level Mathematics was relatively straightforward, 10th grade extended Level Mathematics is a major step up in difficulty in every way possible. I'm here to share some tips and thoughts on how to prepare yourself and succeed in the class.
Structure of Questions:
First of all, the questions in 10 grade extended level mathematics are structured in a format that mimics IB Questions. While these questions aren't necessarily as hard as regular IB Questions, the framing of the question can easily throw students off. One thing I've learned the hard way is that these pre IB Questions are very rarely taken directly from the homework. While the overall concept is present 10 EL questions are designed to measure your ability to think and process information, not memorize questions.
Other Resources:
This brings me to my next tip relating to resources. While doing the homework is very important, you might need to rely on outside resources to guarantee yourself a high grade. Resources I recommend are Khan Academy, YouTube videos from "The Organic Chemistry Tutor", and most importantly your teacher. In order to excel in 10 EL Mathematics, you must understand the basic concept and apply it in various situations. Going after school and asking questions in class is a smart way of doing this.
An Open Mindset:
If you are someone who has excelled at mathematics in the past and then suddenly notices an alarming portion of marks off in the first few tests, don't get discouraged. 10 EL Mathematics is meant to prepare students for both IB Standard Level Mathematics and IB Higher Level Mathematics which means it's going to be harder than usual. If you keep telling yourself that you just aren't capable of doing math then it will simply prevent you from going over your mistakes and learn from them. On top of that, if you demonstrate to your teacher that you are trying everything in your power to succeed in their class, they'll be more inclined to support you with whatever problems you have.
Added on November 19, 2019 by Natalie.W
Dance marathon is a movement that has swept the U.S with the goal of raising money, spreading awareness, and showing the power of dancing and fun. WPS held our first dance marathon last year, called Lakerthon, and we raised over $35,000. It was an absolutely amazing experience, and we are hoping to make this event grow every single year. As most people don't know everything about Lakerthon, I figured I would summarize what Lakerthon is, the benefits, and how it makes a positive impact on our community.
Lakerthon is a fundraiser for Children's Miracle Network Hospitals that raises money for sick and injured kids. We raise money specifically for Arnold Palmer and Winnie Palmer here in Central Florida, so you know exactly where your money is going. We fundraise throughout the school year, leading up to Lakerthon night, which this year will be on February 1st, from 5-11 in the WPS gym. We have a bundt cake fundraiser, poinsettia sales, a spirit week, and so many other opportunities to raise money. It is an all school event and we try to connect the LS, MS, and HS in order to make the biggest impact.
On the actual Lakerthon night, there is dancing, food, games, and hearing from miracle families who graciously tell us their story. Everyone at the event stands for the whole night as a symbol for kids in hospital beds who can't stand. "We stand for those who can't". We commonly use the phrase #FTK, which means "for the kids", meaning that everything we do is for them, and all money raised goes towards helping them.
We raised $35,000 last year, but our goal this year is $60,000. This isn't possible without all of our miracle makers and the support of our community, both inside and outside of school. We encourage anyone and everyone to participate in Lakerthon, because there are so many ways that you can make a miracle in a kid's life.
Added on November 1, 2019 by Ryleigh.R
Taking notes is an incredibly important part of learning especially in high school. Although I did not attend WPS for middle school, I have heard that it was pretty easy. At my old school we would often just get an outline or notes already taken for us that we would review in class a lot so we didn't have much to study at home.
Notes are used both in class and at home studying and without them you will not know what to study. Almost as important as the content of the notes is the layout. Notes should have everything you need to make the connections content wise but I find that having a good set of colored pens, markers, or highlighters can help a lot. Not only will your notes look better but when they are neat and structured well, they will be easier to study.
Some teachers are really good about taking structured notes for you copy down from the board, a slide show, or a google doc. If not following a few of my tips listed below should get you off to a good start.
Title :
At the top of the page have a detailed yet concise title that is larger than the rest of the text on the page. It should be about the topic directly.
Subtitles
These should be larger than the rest of the writing that should follow it. They should also be concise. The content of a subtopic should be something along the lines of an essential idea to the topic or a description of the topic.
Headings:
This should be the name of the subtopic.
Subheading:
Slightly smaller than a heading, this could be a sub-category under the subtopic.
Sub Subheading:
The smallest of the headings and can be anything like a word that gets defined directly after. Something less "big picture" than the topic, subtopic, or subcategory but more important than a regular sentence.
Normal text:
This should be the descriptions of everything that is listed above.
The style of your notes in completely up to you but underlining important words in sentences, highlighting topics, using different colors for different sections and including diagrams will really help with note taking.
Although it is "old fashioned" it is definitely helpful to take your notes by hand. It is scientifically proven that taking notes by hand helps to remember what you wrote down plus you want to always be able to take notes and some teachers no longer allow computers to be open during a lecture and handwritten notes don't need wifi.
Added on October 7, 2019 by Jordan.B
One thing many Windermere Prep students don't realize- you can take the electives or courses you want online even when the school doesn't directly offer them and still have it count as one of your class periods. If Windermere Prep isn't offering a course or elective you're passionate about/really want to take part in, you do have the possibility to take that course during the school year! There are many options offered as to what you can do to ensure you're taking a course you're excited to learn about. For example, I am taking a film course, and a photography course online this year. I am taking these classes because I'm extremely passionate about these subjects, and unfortunately, Windermere Prep does not offer them as a course. But, I don't have to let that restrict me from learning about what I want to do! It's awesome that Windermere Prep encourages their students to do what they're interested in, as they want their students to succeed, so I advise you to take advantage of this.
Here are some things to consider if you're interested:
-You must talk to your counselor, and have them approve it. This is crucial! They must understand why you want to take the course and how it will benefit you in the future. Your counselor can discuss options with you as to what platforms meet Windermere Prep's standards/work best for you.
-You need to be prepared to do work on your own. Online courses are relatively independent, so being self motivated is a must. An online course is still a class, and there are assignments and tests that may be due each week. You need to plan accordingly and allot time each week to complete assignments as you would for your classes at Windermere Prep.
-If you do end up taking an online course in place of one of your electives or other courses, you may be permitted early release. Since I am taking two online classes, I have early release each day, as I don't have a 6th or 7th period. This may not work/be ideal for every person's individual situations, but it is something to bring up when speaking to your counselor.
Added on August 9, 2019 by Shailee.S
Do you know what you want to be when you grow up? When we apply to college, many of us pick a major with a career path in mind. One of the best ways to experience different careers while in high school is shadowing.
My first experience shadowing was in the field of cardiology with a Dr. Dinesh Arab. I had seen the patient side of going to the doctor but I had never seen the doctor's perspective. The day was fast paced, with the doctor moving from room to room seeing over 20 patients in a day. I marveled at the doctor's ability to remember every patient's specific details and conditions. I asked Dr. Arab how he was able to do this and he told me, "Every patient has a different story and when you learn a little of that story you can easily remember who the person is and what has happened to them." He saw his role was more than fixing the physical ailments but also anything else bothering the patient. He also made it a part of his job to create a personal relationship. This reminded me of my own pediatrician who always said, "When you are talking to a patient they are 50% telling the truth and 50% lying, unless you create a personal relationship you won't be able to allow your patient to feel safe and talk to you openly." I saw the applications of this in Dr. Arab's office as he was always able to openly converse with his patients on any subject. I aspire to one day have similar doctor-patient relationships.
This shadowing experience taught me about patient care and allowed me to see a different aspect of medicine. A majority of the job is being able to communicate face to face while also being able understand the symptoms and deduce the issue. I thoroughly enjoyed my time with Dr. Arab, and it reconfirmed my decision to go into medicine.
Try shadowing and see if that is what you would like to be when you grow up!